Gifts4Kids provide individualized personal support to socio-economically disadvantaged students at home. A BTF Gifts4Kids set includes similar educational resources and personalized gifts such as books, crayons, a teddy bear friend, hat, string bag as well as toothpaste, toothbrush and personal flask for their health. These gifts not only satisfy practical hygiene needs but they remind students that they are cared of, supported, and loved.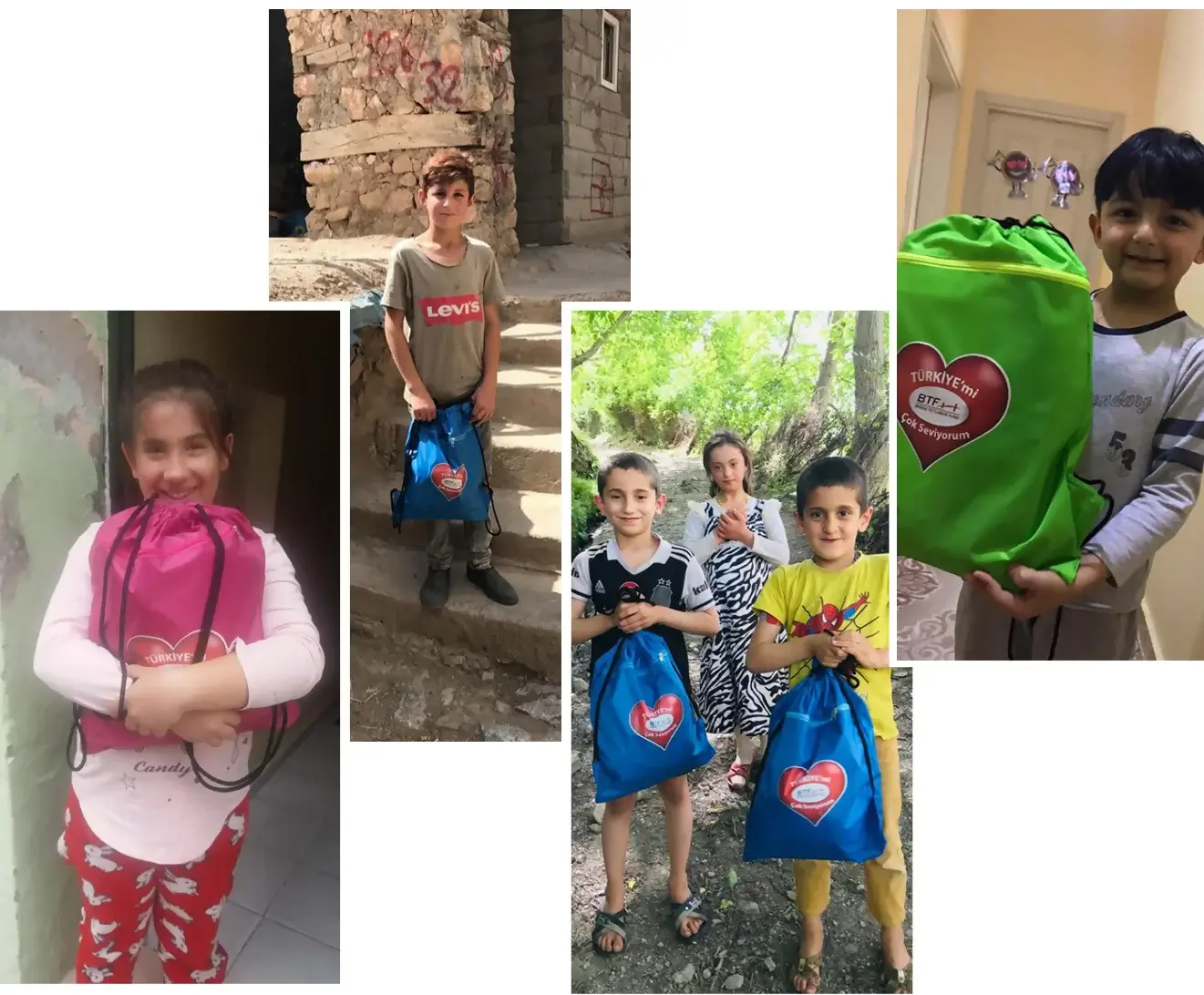 FROM THE WORD OF OUR TEACHERS
Koray Arslan
Yüreğil İlkokulu
Öğrencilerimizin mutluluğu ve gözlerindeki tatlı ışıkların yanında biz öğretmenlere de geleceği inşa etme yolundaki mücadelemizde verdiğiniz bu destek ve bu desteği sadece bir vatandaşlık görevi olarak görerek yapmanız apayrı bir güzellik.
Desteğiniz ve ilginiz için tekrar teşekkür eder, çalışmalarınızın gönlünüzce, dilediğiniz gibi devam etmesini dilerim.
Alper Özgül
Karabacak İlkokulu
Biz küçük bir köy okuluyuz ,eğitim-öğretimi kısıtlı imkanlarla sürdürmeye çalışıyoruz. Normalde okulumuzun ve öğrencilerimizin eksiklerini gidermek için biz derneklerin, vakıfların, hayırseverlerin peşinde koşardık, bunun aksini ilk defa siz Bridge to Turkey gönüllüleri olarak sizde gördük.
Öğrencilerimiz, öğretmenlerimiz, velilerimiz ve kendi adıma teşekkürü bir borç bilirim.
LET'S MAKE THE WORLD A BETTER PLACE TOGETHER.
To hope for the dreams of our students …