Slide 3
Abdülkadir Geylani Özay Library
We are excited to announce the library opening ceremony on January 2, 2023. This library is for our children's use in Kocaeli-Gebze Orhangazi Primary School, and now that they have a library, our children can access the resources they are interested in and discover the world of books.
We sincerely thank Özay Family for their contributions.
Slide 3
BTF's First Robotic Coding Classroom
BTF's first robotic coding classroom is opened in İzmir, under the roof of İBB Gürçeşme Çocuk Belediyesi. We are grateful to our sponsor Genie Foundation for providing this opportunity to our underprivileged kids. Future computer scientists will flourish thanks to the coding classroom and the versatile curriculum.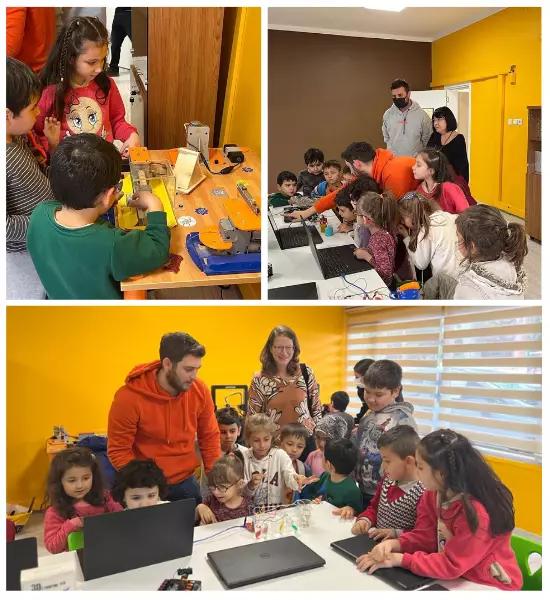 Slide 3
Batman'dan
Bahar Öğretmen'in Mesajı
Sevgili BTF'li eğitim gönüllüleri,
Bize, sınıfıma sanat seti gönderdiniz. Çooook teşekkür ediyorum öncelikle sizlere ve yardımlarınızın kaynağı olan hayırseverlerimize. Çocukların el becerileri, motor gelişimleri ve sanatsal yönlerinin canlanması için ihtiyacımız olan tüm malzemeleri bu sette bulunca şaşkınlıktan ve sevinçten ne yapacağımızı bilemedik.
Provided to economically disadvantaged students for educational opportunities.
Supplied educational kits to rural teachers and students for classroom equity.
Tablets & Laptops4Students
Supported distance learning of underserved students for digital equality and inclusion
Let's Make the World a Better Place Together.
Be the change you want to see
Discipline is the key to success. On the last day of our schools' first semester, we congratulate all of the students who successfully completed their first term. We wish them a good holiday prior to beginning a new semester!
1th Annual 5K Run4Kids Fundraiser will held on January 29th, 9 a.m. We run/walked, chat with friends and help make dreams come true. Meanwhile, we supported equal opportunities for kids
Read More »