At BTF, we believe that a healthy body fuels a healthy mind, and healthy active children have the potential to become effective learners. BTF Sports4Kids Set has been uniquely designed to support children's physical well-being and foster academic achievement in school. More specifically, to assist primary grade teachers with instruction of a wide range of physical activities including dance and gymnastics, hula-hoop, jump rope, badminton, table tennis, ring toss dame, basketball, soccer, volleyball, exercise mats, and other equipment essentials, and a First Aid Kit. BTF Sports4Kids Set includes sport equipment and other game materials for students from kindergarten to 5th grade.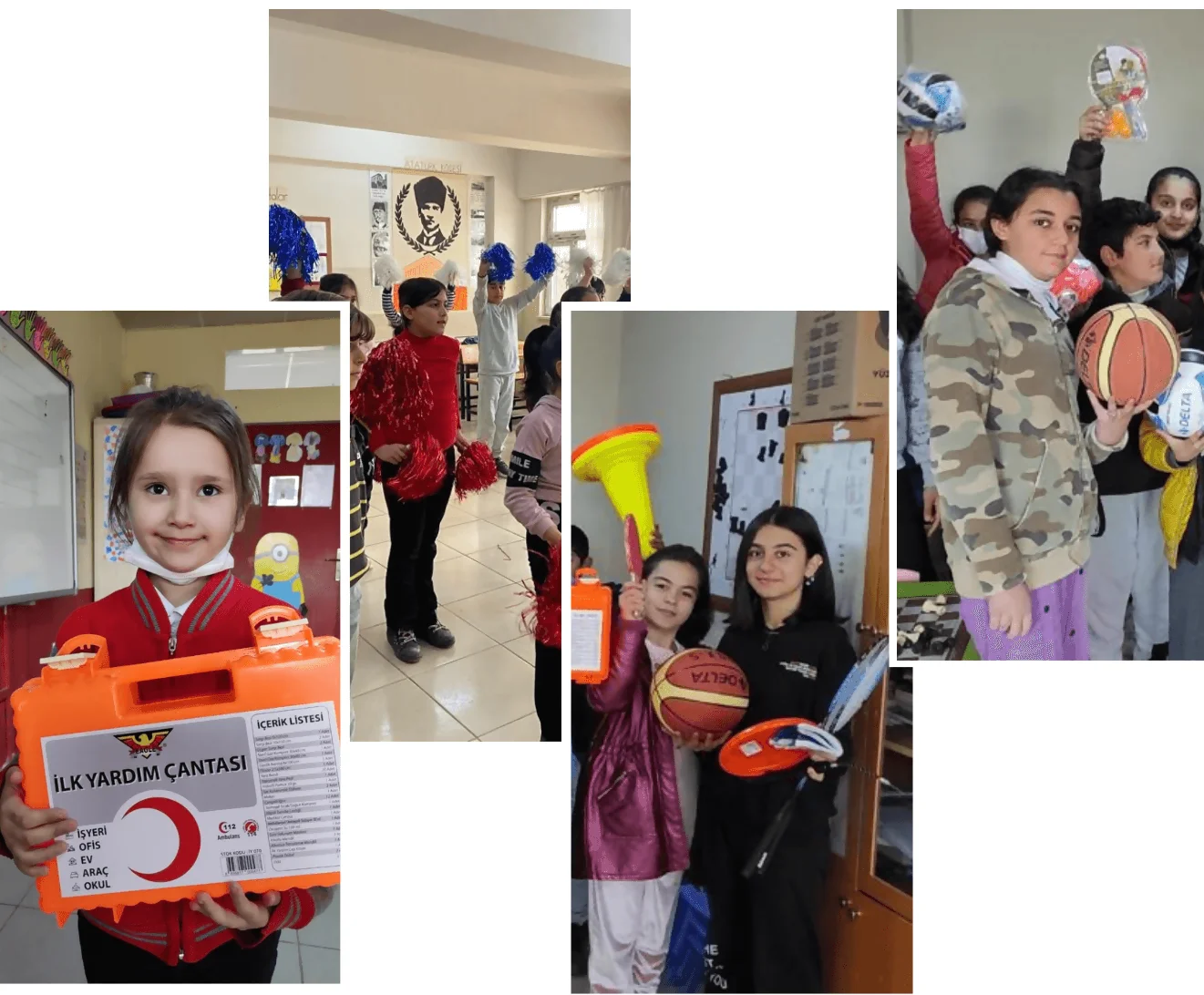 FROM THE WORD OF OUR TEACHERS
Necmettin Gezgör
Ulukapı Merkez İlkokulu
2021-2022 eğitim öğretim yılının başından bu yana BTF olarak iyilik elinizi okulumuza uzatıp öğrencilerimizin köyde ulaşamayacakları birçok şeye ulaşmasını sağladınız. Özellikle spor seti öğrencilerimizin köyde hiçbir zaman ulaşamayacakları spor aktivitelerine ulaşabilmelerini sağladı. Spor malzemesi adına böyle zengin bir içeriğin bizim gibi küçük bir köy okulunda bulunması hem bizi hem öğrencilerimizi çok mutlu etti. Okulumuz ve öğrencilerimiz adına Bridge to Türkiye Fund Vakfına ve katkı sağlayan emek veren tüm hayırseverlere teşekkür ederiz.
Serdar Yükseler
Manavgat Gül Salih Şenli İlkokulu
Spor setimizdeki ürünler; önceki setler gibi hem kaliteli hem de öğrenci seviyelerine oldukça uygun ürünlerdi. Çocukların hem bilişsel gelişimini destekleyecek hem de devinişsel yönlerini sergileyecekleri özelliklere sahip bir set olduğunu gönül rahatlığıyla söyleyebiliriz. Okulumuz yangından etkilenen bir köy okuluydu ve eğitim araç gereçleri konusunda oldukça eksiğimiz vardı fakat BTF ailesi en baştan beri yanımızda olduğunu hissettirdi ve bize göndermiş oldukları setlerle okulumuz donanım olarak birçok merkez okuldan daha iyi bir seviyeye çıktı.
LET'S MAKE THE WORLD A BETTER PLACE TOGETHER.
To hope for the dreams of our students …